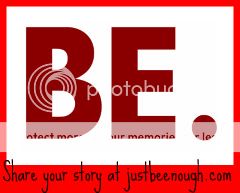 I'm linking up with the ladies and gents over at
Just Be Enough
for their Monday prompts and this week it's all about what makes me smile.
I have been mulling it over and decided that I might need more than five...
Or maybe I should put it into categories...
Or maybe I should just get started!
The men in my life - No matter what is going on or how down I feel, how angry I get - their smiles brighten my day. They make me smile by their antics, comedy genius and contagious laughs.
Little children - especially those who are learning to walk. The looks of concentration, awe, surprise and trust that fleet across their faces. The determination and personalities that are so apparent to someone looking on. And of course their chubby legs, grubby faces etc etc...
WORDS. The good kind. The funny ones. The helpful ones. The caring ones. The ones that make me laugh. The sarcastic ones that make me laugh. The rude ones that make me blush. The ironic ones. The geeky ones. The one that would hurt if I heard them. The ones I wish I could say. The ones I want to say but never will...

Hence I have two boards on Pinterest of inspiration for my word wall I will be designing when I get home. (Here and here)

Kittens and puppies, meerkats, lion cubs, tiger cubs, hyena pups, wolf cubs - pretty self explanatory. Seriously... who cannot feel better watching a baby animal exploring the world... ok... you're just weird!

Coffee - the smell of coffee brewing when I'm still in bed. The teasing, tantalising aroma that to me equals love and caring. That Stud1 is making me my magical elixir of life.

The smell as you enter the cafe. The warmth in your hands as you cradle the cup. The heightened sense of awareness as you breathe in deeply, taking your first sip. The simple act of stirring the sugar in makes me feel calmer. It slows my mind and gives me a little break from everyday chaos.